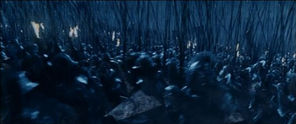 The Uruk Pikemen are Uruk-hai soldiers armed with pikes who serve as the only anti-cavalry infantry for the forces of Isengard. They arm themselves with pikes which made them effective against cavalry units and mounted units, but die quickly when faced against Swordsmen and Archers. Like all Uruks, Pikemen have 80 health-points, but deal only 10 damage against enemy infantry.
Recruited from: Uruk Pit
Cost: 300
Command Points taken: 20
Recruited from: Uruk Pit
Cost:
Command Points taken:
Items in italics are exclusive to expansion
Ad blocker interference detected!
Wikia is a free-to-use site that makes money from advertising. We have a modified experience for viewers using ad blockers

Wikia is not accessible if you've made further modifications. Remove the custom ad blocker rule(s) and the page will load as expected.