The
Trebuchet
is the
Men of the West
's siege unit, known for its numerous deployment across the battlements of
Minas Tirith
.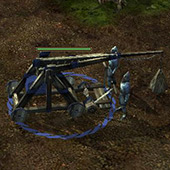 Requirements & Stats (BFME 2)
Edit
Built at: Siege Works
Cost: 1000
Command Points taken: 25
Health-points: 2000
As an Expansion
Edit
Main Page: Catapult expansion
Trebuchets can also serve as a mighty ranged-defense expansion for Men of the West's walls and Fortress. If the trebuchet alone is destroyed, and not its platform, it may be rebuilt.
Items in italics are exclusive to expansion
Ad blocker interference detected!
Wikia is a free-to-use site that makes money from advertising. We have a modified experience for viewers using ad blockers

Wikia is not accessible if you've made further modifications. Remove the custom ad blocker rule(s) and the page will load as expected.