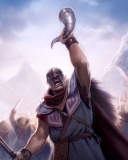 The
Thrall Master
is the basic unit for
Angmar
's infantry.
Although they only are trained as one unit, they can summon a group of either Rhudaur Spearmen, Rhudaur Axethrowers, Gundabad Warriors, or Gundabad Wolf Riders. If the Thrall Master himself is killed (he is the individual following the summoned group), his entire unit will die, so caution must be exercised when using them.
Requirements
Edit
Recruited from: Hall of the King's Men
Cost: 100
Command Points taken: 40 (The warriors he summons do not take any Command Points)
Items in italics are exclusive to expansion
Ad blocker interference detected!
Wikia is a free-to-use site that makes money from advertising. We have a modified experience for viewers using ad blockers

Wikia is not accessible if you've made further modifications. Remove the custom ad blocker rule(s) and the page will load as expected.