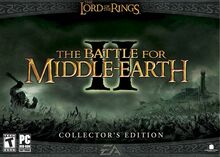 The Battle for Middle-earth II: Collector's Edition is a special edition of The Battle for Middle-earth II that was made available in 2006. It has no major additions to gameplay, but contains bonus material as well as a documentary on the game's creation.
Unlike the Expansion pack that was released later in the year, the Collector's Edition does not require the normal BFME 2 to be already installed, since it includes the game itself.
Exclusive features
Edit
A rebate coupon for savings on a new NVIDIA graphics card (If purchased New)
A large collection of artwork created for BFME 2
More in-game cinematics and trailers which are compatible with surround sound
The Making of The Battle for Middle-earth II, an video appendix of the development of the BFME series, featuring interviews of certain crew members - this material comes on a separate DVD. (If purchased New)
Special graphic treatment for custom heroes that, in a multiplayer game, make the player identifiable as a Collector's Edition owner
Additional maps, such as Argonath and Weathertop, that are based on the locations from the Lord of the Rings films (These maps would later be available in The Rise of the Witch-king.)
A high-resolution map of Middle-earth created exclusive for the game, displaying the locations of the Good and Evil campaigns
A two-sided, 11" by 17" Campaign Map poster (If purchased New)
Players may now summon the Dragon Strike dragon as a controllable unit.
External link
Edit
Ad blocker interference detected!
Wikia is a free-to-use site that makes money from advertising. We have a modified experience for viewers using ad blockers

Wikia is not accessible if you've made further modifications. Remove the custom ad blocker rule(s) and the page will load as expected.