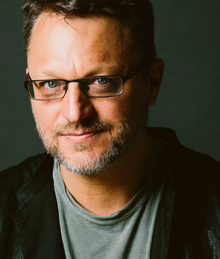 Steve Blum (born 1960) is an American voice actor with a remarkably large career, who in 2004 voice acted Boromir for The Battle for Middle-earth and in 2006 returned and provided the voice of the Dwarf hero Gloin as well for The Battle for Middle-earth II. He also is the voice of some Orcs and Gondorians.
Middle-earth voice acting
Nine years after BFME 2's release, Blum acted Gloin a second time, for Snowblind Studios' The Lord of the Rings: War in the North.
He has voiced Sauron three different times, two times for games released by Monolith Productions: Guardians of Middle-earth in 2012 and Middle-earth: Shadow of Mordor in 2014. The third time was for Lego Dimensions in 2015.
Voice acting in other game franchises
Star Wars
Alongside Steven Stanton, Blum currently voice acts for the show Star Wars Rebels, as Zeb Orrelios - but previously was the voice of Andronikos Revel in Star Wars: The Old Republic (2011) and in Star Wars: The Old Republic - Rise of the Hutt Cartel (2013). For Star Wars: The Force Unleashed II (2009), he was the voice of a Stormtrooper. For Star Wars: Knights of the Old Republic (2003) he was the voice of Yun Genda and long before that in 2002, for Star Wars: Jedi Knight II - Jedi Outcast, he voiced Galak Fyyar.
Marvel
In 2011 alone, Steve Blum was the voice of the mutant Wolverine five times - for the short-lived X-Men TV-series, X-Men Destiny, Super Hero Squad Show, in which he also voiced Thanos and Abomination, Marvel Super Hero Squad: Comic Combat and Marvel vs Capcom 3: Fate of Two Worlds.