In all releases, The Battle for Middle-earth offers a skirmish mode, for the Player to play 1v1, 2v2, etc. against CPUs (computer players). The player and enemies are a certain picked faction.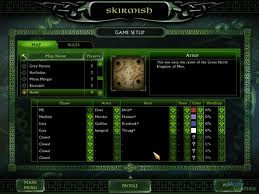 Difficulty
Edit
Difficulty is based one the frequency of enemy's attacks, it is also presented by rank in loading screen. There are 4 level difficulty could be set, while only 3 in BFME 1.
Easy - Rank 1
Medium - Rank 5
Hard
Brutal
Argonath - RotWK only
Celduin River
Cair Andros
Carn Dum
Dunland
the East Bight (of Mirkwood) - RotWK only
Erebor
Ettenmoors
Fangorn Forest
Fords of Isen
Forlindon
Harlindon
High Pass
the Iron Hills
Isengard
Ithilien
Lorien
Paths of the Dead - RotWK only
Redhorn Pass
Rohan
Tournament Snow - RotWK only
Umbar
For up to 3 armies
Edit
Withered Heath
Amon Sul
Amon Sul fortress - RotWK only
the Black Gate - RotWK only
Fornost
Grey Havens
Rivendell
Minas Morgul
For up to 4 armies
Edit
Angmar - RotWK only
Arnor
Barrow-downs
Buckland
Cardolan
the Carrock
Enedwaith
Forodwaith
Grey Mountains
Harad
Helm's Deep
Minas Tirith
Minhiriath
Mount Doom
Mount Gundabad - RotWK only
North Downs
Osgiliath
Rhudaur - RotWK only
Tournament Gundabad - RotWK only
Tournament Rhudaur - RotWK only
Tower Hills
Udun - RotWK only
Weathertop
For up to 5 armies
Edit
Gondor - named Belfalas in RotWK
For up to 6 armies
Edit
Anfalas
Dagorlad
Dead Marshes
Lostriand - RotWK only
Mirkwood
Old Brown lands
Rhun
the Shire
For as many as 8
Edit
Adorn River
Evendim (Lake Evendim)
Mordor
Tournament Hills - RotWK only
Ad blocker interference detected!
Wikia is a free-to-use site that makes money from advertising. We have a modified experience for viewers using ad blockers

Wikia is not accessible if you've made further modifications. Remove the custom ad blocker rule(s) and the page will load as expected.