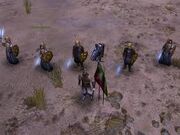 A Peasant is the builder-unit and only foot-soldier unit for Rohan in The Battle for Middle-earth. They are effective when fighting other infantry or charging enemy ranged troops, but will tend to perish quickly against the ranged troops' arrows or enemy cavalry. 
Their main function is to repair Rohan's buildings. 
Health-points: 80 
Requirements
Edit
Recruited from: Farm
Cost: 100
Command points taken: 10
Amount per unit: 10
In BFME 2 Patch 1.06
Edit
In The Battle for Middle-earth II, peasants are available in Patch 1.06. For the faction Elves, Peasants can be recruited from Inns as swordsmen. They cannot be upgraded in any way. Peasants are strong against buildings, although against some troops they can hold somewhat effectively. As they are cheap and easy to recruit, making a mob of several battalions of peasants can actually be effective.
Items in italics are exclusive to expansion
Ad blocker interference detected!
Wikia is a free-to-use site that makes money from advertising. We have a modified experience for viewers using ad blockers

Wikia is not accessible if you've made further modifications. Remove the custom ad blocker rule(s) and the page will load as expected.