Orc Warriors
are the basic and savage swordsmen-unit of the
Mordor Faction
, and the backbone of the whole army.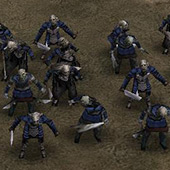 The Orc Warriors are the best unit for rushing an enemy. With their low (or free) unit-cost and small amount of command points taken, they could be used as meat shields for archers or just to attack en masse an enemy base. The best strategy is to build as many hordes of Orc Warriors and upgrade them with the Banner Carrier upgrade, to counter the weakness of their low health and armor.
Trained from: Orc Pit
Cost: Free
Command points taken: 20
Trained from: Orc Pit
Cost: 50
Command points taken: 40
Items in italics are exclusive to expansion
Ad blocker interference detected!
Wikia is a free-to-use site that makes money from advertising. We have a modified experience for viewers using ad blockers

Wikia is not accessible if you've made further modifications. Remove the custom ad blocker rule(s) and the page will load as expected.