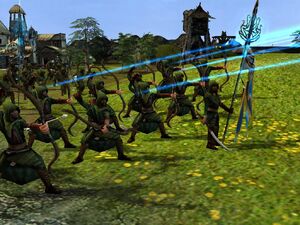 In Mirkwood, the fifth Evil Mission, The Mouth of Sauron, Nazgull, and the Shelob travel to Mirkwwod, the Elven sanctuary.
Objectives
Edit
Advance to the Old Forest Road in the North.
Find another way across the river.
Find and destroy the Ent base.
Build up and defend Sentry Towers in the designated spots before the Elves do.
Bring Shelob to tame the spiderlings.
Find and destroy the Elven bases.
Items in italics are optional objectives.
Ad blocker interference detected!
Wikia is a free-to-use site that makes money from advertising. We have a modified experience for viewers using ad blockers

Wikia is not accessible if you've made further modifications. Remove the custom ad blocker rule(s) and the page will load as expected.