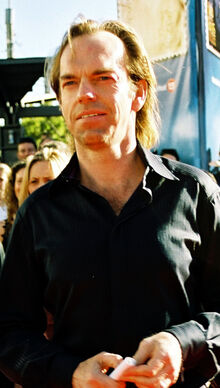 Hugo Weaving (born in 1960) is a well-known on-screen actor and voice actor. Predominantly, he portrayed Elrond of Rivendell in Peter Jackson's Lord of the Rings movies and Hobbit trilogy. In November of 2005 it was announced that he would reprise that role as Elrond for The Battle for Middle-earth II, probably if not for Elrond's being a key character in the game's Good Campaign, which Weaving also narrated.
About his doing the voice-acting for Elrond, Weaving once said, "I always find voice work really fascinating because you are working on one element of your make up as an actor—focusing more intently on one part of your toolbox if you like—in a way so everything seems to go into producing that vocal effect."
Notable work outside of Middle-earth
Edit
The voice of Megatron in three of Michael Bay's Transformers films (2007 - 2011)
The character of Smith in the famous Matrix movie-series (1999)
The character of V in V for Vendetta (2005)
Ad blocker interference detected!
Wikia is a free-to-use site that makes money from advertising. We have a modified experience for viewers using ad blockers

Wikia is not accessible if you've made further modifications. Remove the custom ad blocker rule(s) and the page will load as expected.