The Dwarven Guardians were footsoldiers that served as the backbone of the Dwarven force. They are equipped with heavy armour, massive shields and a razor sharp axe, making them slow but powerful.
Each Dwarven citadel is a well-defended and massive complex of tunnels, workshops and great halls. For thousands of years these halls have been defended by stalwart and fearless warriors equipped with axe and shield. In all of Middle-earth there are few warriors who could stand toe-to-toe against a Dwarven Guardian. Every Dwarf is naturally strong and skilled with tools—the tools of war are no exception. Guardians have been called to march against countless throngs of Goblins in dark caves or ancient powerful dragons on high mountain summits. After so many lifetimes of protecting the priceless treasures of their brothers, the Guardians have become a soldier of Middle-earth to be both feared and respected.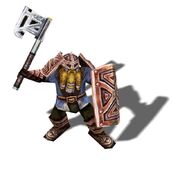 Requirements (BFME2)
Edit
Built from: Hall of Warriors
Cost:
Command Points Taken: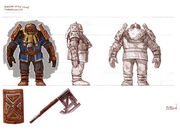 Items in italics are exclusive to expansion
Ad blocker interference detected!
Wikia is a free-to-use site that makes money from advertising. We have a modified experience for viewers using ad blockers

Wikia is not accessible if you've made further modifications. Remove the custom ad blocker rule(s) and the page will load as expected.