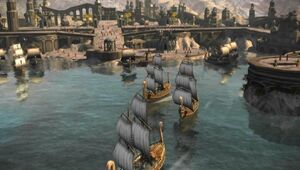 In the Grey Havens, the fifth Good Mission, the Elven army arrives in Mithlond, or ("the Grey Havens"). After the heroes discover of the Corsair attack, Gloin requests help from his brethren in the Blue Mountains. At the last minute, they arrive to save the port.
Objectives
Edit
Clear all enemy forces out of the Grey Havens.
Secure both Shipwrights in the Grey Havens.
Build a fleet of no less than four Elven Warships.
Destroy the Corsair Naval Blockade.
Build an Elven Transport Ship.
Capture both Corsair Shipwrights to the South.
Destroy the first wave of the beach assault.
Destroy the second wave of the beach assault.
Destroy the final wave of the beach assault.
Build an Elven Storm Ship.
Build an Elven Bombardment Ship.
Aftermath
Edit
Bad word comes from Lorien, that Sauron's armies have advanced to the forest region. So the Dwarves must ally with the Elves to stop them.
Ad blocker interference detected!
Wikia is a free-to-use site that makes money from advertising. We have a modified experience for viewers using ad blockers

Wikia is not accessible if you've made further modifications. Remove the custom ad blocker rule(s) and the page will load as expected.