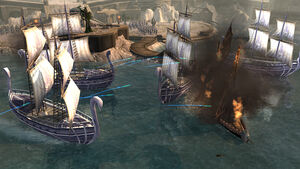 In Grey Havens, the second Evil Mission, the Corsairs of Umbar are raiding the Grey Havens, an Elven port.
Objectives
Edit
Capture the shipwright.
Construct three Corsair Black Ships.
Sink the Elven convoy fleeing the Grey Havens.
Destroy the Elven Battle Towers defending the beach.
Capture the Outpost.
Defend the transports.
Defeat the Elves defending the beach.
Destroy the three Elven Fortresses.
Items in italics are optional objectives.
Ad blocker interference detected!
Wikia is a free-to-use site that makes money from advertising. We have a modified experience for viewers using ad blockers

Wikia is not accessible if you've made further modifications. Remove the custom ad blocker rule(s) and the page will load as expected.