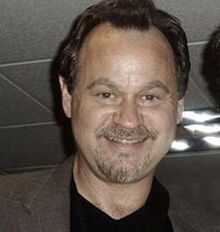 Gregg Berger (born 1950) is a voice actor who is known for portraying characters in cartoons for a wide age-range since 1972. In 2006, he voice-acted both the new Troll-hero Rogash and campaign character King Arvedui of Arnor for The Rise of the Witch-king.
Other notable work
Edit
Berger was the voice of Odie in The Garfield Show (from 2008 to 2013), Garfield's Pet Force (2009), Garfield's Fun Fest (2008), and Garfield Gets Real (2007).
He voiced nine characters of The Transformers (1984 - 1987) including Grimlock and Long Haul, voiced those two characters again for Transformers: Devastation in 2015, had voiced just Grimlock again for Transformers: Rise of the Dark Spark in 2014, and later, alongside Steve Blum, voiced Stockade in Transformers: Robots in Disguise in (2015 - 2016).
In years before the above projects, Berger provided voices for three installments of Command & Conquer, another RTS game-series developed and published by Electronic Arts (EA).
External link
Edit