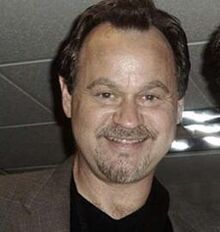 Gregg Berger (born 1950) is a voice-actor who is known for portraying characters in cartoons for a wide age-range since 1972. In 2006, he voice-acted both the new Troll-hero Rogash and Campaign-character King Arvedui of Arnor for The Rise of the Witch-king.
Other notable work
Edit
Berger was the voice of Odie in The Garfield Show (from 2008 to 2013) , Garfield's Pet Force (2009), Garfield's Fun Fest (2008), and Garfield Gets Real (2007).
He voiced nine characters of The Transformers (1984 - 1987) including Grimlock and Long Haul, voiced those two characters again for Transformers: Devastation in 2015, had voiced just Grimlock again for Transformers: Rise of the Dark Spark in 2014, and later, alongside Steve Blum, voiced Stockade in Transformers: Robots in Disguise in (2015 - 2016).
In years before the above projects, Berger provided voices for three installments of Command & Conquer, another RTS game-series developed and published by Electronic Arts (EA).
External link
Edit
Ad blocker interference detected!
Wikia is a free-to-use site that makes money from advertising. We have a modified experience for viewers using ad blockers

Wikia is not accessible if you've made further modifications. Remove the custom ad blocker rule(s) and the page will load as expected.