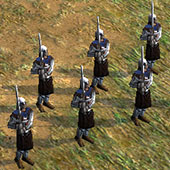 The Black Numenoreans are warriors of the Angmar (faction), comprising of men. They are able to be trained at the Hall of the King's Men, and carry two-handed swords.
BFME2 ROTWK
Edit
Requirements
Edit
Built From: Hall of the King's Men at Lvl. 2
Cost: 
Command Points Taken: 
Items in italics are exclusive to expansion
Strategy
Edit
Note: it is not recommended to build Black Numenoreans because they attack very slowly and don't do a lot of damage. If you're using Unofficial 2.02, then building Black Numenoreans is totally recommended, because they are a lot stronger in this patch.
Items in italics are exclusive to expansion